New Mercedes EQS SUV – Mercedes Benz of Novi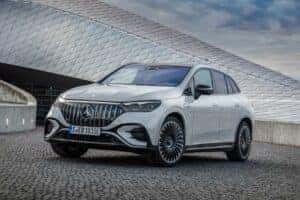 The 2023 Mercedes EQE SUV – A Marvel of Luxury and Sustainability at Mercedes-Benz of Novi in Michigan
Introduction
In the dynamic world of luxury electric vehicles (EVs), Mercedes has once again set a new standard with the launch of the highly anticipated 2023 EQE SUV. Blending opulence, cutting-edge technology, and environmental consciousness, this remarkable vehicle embodies the future of automotive excellence. In this blog post, we delve into the remarkable features that make the 2023 Mercedes EQE SUV a true marvel on the road.
Elegance in Design
Every Mercedes vehicle is a statement of refined aesthetics, and the 2023 EQE SUV is no exception. With its sleek contours, distinctive grille, and aerodynamic silhouette, the EQE SUV effortlessly commands attention on the road. The interior is equally impressive, boasting premium materials and meticulous craftsmanship that envelop passengers in comfort and sophistication.
Electrifying Performance
Underneath its elegant exterior, the 2023 EQE SUV boasts a powerful electric powertrain that delivers exhilarating performance. Equipped with advanced electric motors, the EQE SUV accelerates seamlessly, providing instant torque for a dynamic driving experience. Whether navigating city streets or embarking on long journeys, the EQE SUV's range and performance make it a versatile choice for discerning drivers.
Luxury Meets Sustainability
Mercedes has taken a bold step towards sustainable transportation with the EQE SUV. As a fully electric vehicle, it produces zero tailpipe emissions, contributing to a cleaner and greener future. The vehicle's battery technology offers an impressive range, ensuring that drivers can embark on their journeys with confidence. With an eco-friendly mindset and a commitment to luxury, the EQE SUV presents a harmonious balance between opulence and environmental responsibility.
Innovative Technology
Step inside the EQE SUV, and you'll be greeted by an array of state-of-the-art technology features. The "MBUX Hyperscreen," a stunning digital dashboard that spans the entire width of the cabin, integrates entertainment, navigation, and vehicle controls into a single intuitive interface. Voice control and touch interactions make it easier than ever to access information and functions, enhancing both safety and convenience on the road.
Safety as a Priority
Mercedes has always been at the forefront of automotive safety innovation, and the EQE SUV continues this tradition. Packed with advanced driver assistance systems, including adaptive cruise control, lane-keeping assist, and automated parking, the EQE SUV is designed to enhance driver confidence and mitigate risks on the road. With a suite of cutting-edge safety features, this vehicle prioritizes the well-being of its occupants.
The Future of Luxury Mobility
In the rapidly evolving landscape of luxury EVs, the 2023 Mercedes EQE SUV stands as a testament to the brand's commitment to innovation, sustainability, and uncompromising luxury. Its striking design, electrifying performance, and groundbreaking technology showcase a future where driving is not only a means of transportation but an immersive and indulgent experience.
Experience the EQE SUV at Mercedes-Benz of Novi
As an authorized Mercedes dealer, we are excited to offer you the opportunity to experience the 2023 EQE SUV firsthand. Visit our showroom to witness the fusion of luxury and sustainability that defines this remarkable vehicle. Our expert team is ready to guide you through its features, answer your questions, and help you take a step towards driving the future with the Mercedes EQE SUV.
In Conclusion
The 2023 Mercedes EQE SUV redefines the concept of luxury electric vehicles, embodying elegance, performance, sustainability, and innovation in every aspect. As a forward-looking dealership, we invite you to explore the future of automotive excellence by getting behind the wheel of the EQE SUV. Contact us today to schedule a test drive and be a part of the electric revolution that is shaping the automotive industry.